Father Loukas of Xenophontos – Iconographer Extraordinaire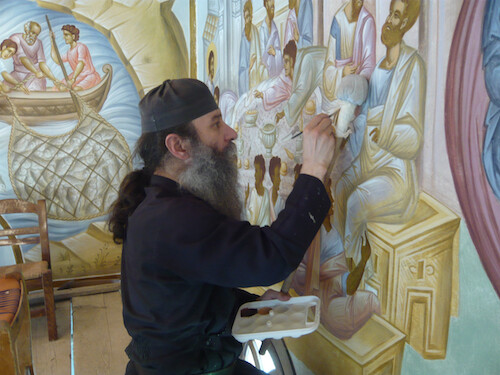 It is very rare to learn the details of a monk's life. They retreat from the world, not for any fame or personal glory, but to enter into a deeper relationship with God on the world's behalf. Father Loukas, the iconographer whose prayerful and Spirit-filled work will adorn the Saint Nicholas National Shrine, is a true monk. He seeks not personal glory, fame, or recognition. He paints because it is his Spirit-filled vocation. And we are so very blessed that he is the one whose work will fill Saint Nicholas.
He was born in Larissa in 1964. Coming to the Monastery of Xenophontos when he was only 21 years old, he has remained with the brotherhood there ever since. And it was at Xenophontos that his God-given talent and studious, disciplined monastic practice, earned him a place among the finest living iconographers in the world today.
In the photos below, you will see some portrayals of Father Loukas working in other settings on Mt. Athos with the team of Iconographers of his Monastery. These have included the Katholikon (main church) of his own Monastery, the Refectory (communal dining area) of the Monastery of Iveron, the Katholikon of the Monastery of Simonos Petras, the Tower of the Protaton (the oldest Church on Mt. Athos), and the Katholikon of the Monastery of Saint John the Forerunner, as well as the Refectory of the same Monastery.
Father Loukas was also featured on the September 6, 2020 edition of 60 Minutes: click here to view
Below is a bit of the transcript of that show (60 Minutes), which gives a sense of Father Loukas:
The Xenophontos Monastery is a fortress against time.
Master iconographer Father Lukas is painting the iconography for the new St. Nicholas. Father Lukas: "God has called me to do this work. to communicate the spirit of Mount Athos to the people."
Father Lukas granted us an early look at 56 icons for the project. He painted St. Nicholas, by tradition, as the patron of seafarers, lifting a man from a violent sea. But what's troubling these waters is 9/11.
[Below is a still shot of Father Loukas showing correspondent Scott Pelley this particular icon, which has since been enlarged and revised]
Father Lukas: "I personally want this church, through the iconography to open up a new horizon for people, that they come away with hope. If this happens, the icons will have fulfilled their purpose."