Heroes of Saint Nicholas
September 2022 Recipient
John and Mary Pappajohn
John Pappajohn is a visionary, and that vision is seen not only in an extraordinary life of entrepreneurial genius, but in a philanthropic legacy of beauty and wisdom.
He became one of the nations first, and is now recognized as one of the world's premier venture capitalists. In 1969 he founded Equity Dynamics and Pappajohn Capital Resources in Des Moines, Iowa. He has served as a director for more than 40 publicly traded companies, launched more than 100 startups, and taken more than fifty companies public. He has received many honors for his accomplishments including the prestigious Horatio Alger Award, four honorary doctorates, and other awards too numerous to mention.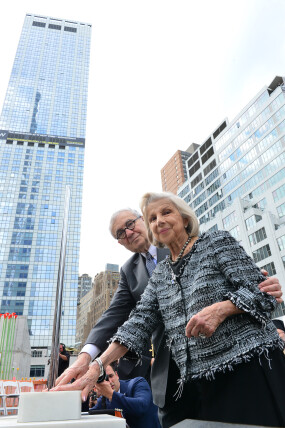 But while John is a known entrepreneurial genius, he is equally known for his generosity. John and his late wife, Mary, have contributed over 100 million dollars to charities and education. They have founded the John Pappajohn Entrepreneurial centers at five Iowa colleges and universities. Their success has resulted in more than 175,000 graduates of the program and more than 1000 small businesses launched.
And their philanthropy toward education is equaled by their love of beauty. John is among the top 200 art collectors in the world. John has sat on numerous boards for the arts, including Vice Chairman, Hirschhorn Museum in Washington, DC, the Kennedy Center for Performing Arts, Trustees Council the National Gallery of Art and the Whitney Museum. Mary was a trustee at the Des Moines Art Center and the Walker museum of Art in Minneapolis.
John is a leading Archon, a member of Leadership 100 and the Faith Endowment Fund. He has served the Archdiocese in many different capacities, but in the early design stage for the new Saint Nicholas Church at Ground Zero, John was a prophetic voice for the Calatrava design. In fact, at a critical meeting with prospective donors to review the four design finalists, it was John Pappajohn who made the case – simply and elegantly – for Calatrava's design. The late Michael Jaharis hosted this meeting at the famous Carlyle Hotel in New York City, followed by a luncheon. The then Archbishop, His Eminence Demetrios, presented four beautiful and to-scale models and gave a description of each; there were also materials on the architectural firms. After the presentation of the designs, John was the first to stand, and once he had spoken, the decision was over. He said: "It's obvious … it has to be Calatrava." The respect accorded to John and his aesthetic judgment was instantaneous and overwhelming.
Here is an interview that he gave some years ago to The Orthodox Observer about the rebuilding of Saint Nicholas.
OO: Mr. Pappajohn: You were the first person to commit one million dollars to rebuilding St. Nicholas at Ground Zero. What inspired you about the project?
Pappajohn: First of all, I thought it was a wonderful project! Every time I went to Wall Street, I would stop by the little church on Cedar Street, that outpost of Greek Orthodoxy, and pray and light a candle. With the rebuilt Church, St. Nicholas will put our faith on the map like nothing else! It will be a place to bring people of all religions together. I loved that little church and to see it rise again as a National Shrine, a beacon, an icon of our faith is really something to be proud of!
OO: How do you feel about the design by Calatrava?
Pappajohn: He is an artist – most architects are not – and his design is brilliant. From the first time I saw the model, I knew it was the one we had to build. It's a beacon, a holy shrine, a place to do your σταυρό, to pray and to be at peace. And the color, the gleaming effect of the marble. It will tell the story for generations.
OO: How do you see the mission of Saint Nicholas in the future?
Pappajohn: The new Saint Nicholas is for people – ALL PEOPLE—to come, to come and pray and thank God for our well being, and to memorialize the people who perished that fateful day in American history. It will become a place of Pilgrimage for Greek Orthodox and for others. Saint Nicholas will have a tremendous responsibility to be the face of the Greek Orthodox Church in America. The clergy, the docents, who will give tours, all of us have an opportunity to proudly share our religion and our heritage. And how many of us have families that immigrated from Greece through Ellis Island in the shadow of the Statue of Liberty? St. Nicholas has this story to tell as well.
OO: What is the impact you feel that St. Nicholas will have on the Greek Orthodox and wider communities?
Pappajohn: I believe it will expose Greek Orthodoxy to other faith groups and I can anticipate ecumenical services being part of the life of this church. I am very pleased that the second floor will be a space open to all. And so Saint Nicholas will not flaunt our faith but bring us closer to other communities. We should all be so proud – periphanoi! – of our new church. This is something like nothing else that we never had. Mary and I and our whole family are so very proud that we are part of the Saint Nicholas National Shrine!
John and his late wife, Mary, were the first to recognize the genius of the Calatrava design and the first to give one million dollars. Their faith in the project inspired many others to step forward. At the Ground Blessing in 2014, they were honored to lay the first stone in the ceremonial cairns built that day to mark the occasion. They are Heroes of Saint Nicholas and will never be forgotten.
####
About the Heroes of Saint Nicholas
On the morning of September 11, 2001, Heroes emerged at Ground Zero – many of whom gave their lives. Since that fateful day, there have been contributions of enormous significance to the rebuilding of the Saint Nicholas Greek Orthodox Church and National Shrine. These are the Heroes Saint Nicholas.
Every month, we will highlight one of these persons who played a special role in making the National Shrine a reality. The gratitude of the Greek Orthodox Church toward these people is truly incalculable. We thank them from the bottom of our hearts for what they have done to bring about the miraculous reconstruction of Saint Nicholas.
Visit the Heroes of Saint Nicholas webpage for more information and a listing of past Recipients