Heroes of Saint Nicholas
November 2022 Recipients
The Family of A.G. and Faye Spanos
Among those who helped in completing the construction of the Saint Nicholas National Shrine, the Alex and Faye Spanos Family stands out for the critical role they played in fulfilling the vision of erecting a monument to those who perished on September 11, 2001. Their commitment to this vision and their bold action to stand up and lend their support made it possible to complete the project.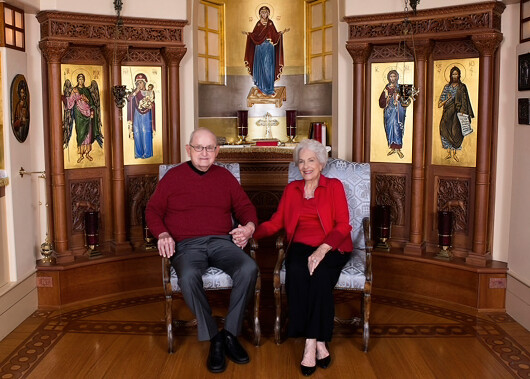 The Spanos family story exemplifies the dream of every immigrant. Alex Spanos rose from very humble beginnings to become the top apartment builder across the nation and the owner of an NFL franchise. Born the son of Greek immigrants in 1923, his tireless work ethic and fearlessness to venture out in the world and find success was the embodiment of the American dream. He built a legacy of bold thinking, tireless drive, and a passion to help his community; and in the process he proved that dreams do come true.
Aside from being a celebrated businessman and generous philanthropist, Alex's greatest joy and source of pride was his family. His beloved wife Faye, his four children, his15 grandchildren and his 12 great-grandchildren always came first. Throughout Alex's life, Faye, his wife of nearly 70 years, was his rock and inspiration. It was Faye's unconditional love and support that gave him the strength and peace of mind to take risks and pursue his goals unfettered. Together they contributed generously to worthy causes and charities. Hospitals, universities, scholarship funds, youth programs, sports programs, churches, schools – all were recipients of their incredible generosity.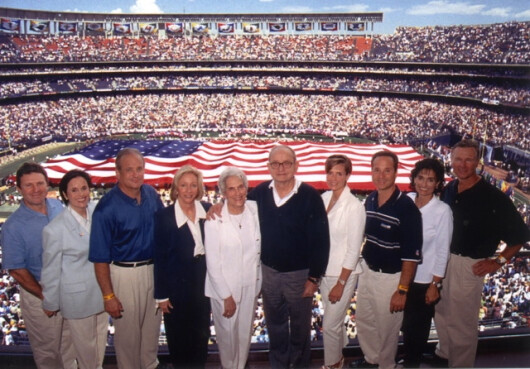 Through it all, Alex never forgot his roots and took immense pride in both his Hellenic heritage and Greek Orthodox faith. It was through that faith he learned compassion and empathy. Whenever he was called upon to help, he always delivered. Passionate about education, helping the underprivileged and enabling those with a dream to better their lives, he took pride in setting an example for others to follow.
This legacy continues today in their children: Dean Spanos, Dea Berberian, Alexis Ruhl and Michael Spanos, their spouses and children.
The generosity and passion of the Spanos family is legendary, especially for the Greek Orthodox Faith and the needs of the Ecumenical Patriarchate. But they hold a special place at the Saint Nicholas Greek Orthodox Church and National Shrine.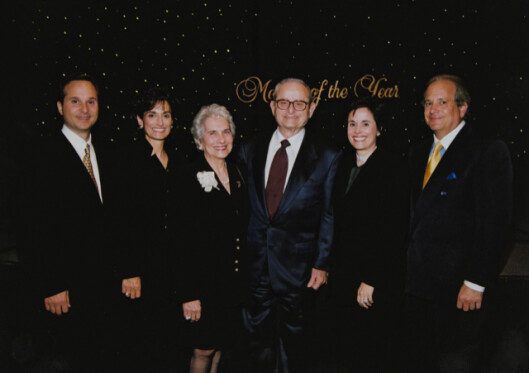 Six months into the tenure of Archbishop Elpidophoros, when The Friends of Saint Nicholas were commencing a restart of the Shrine in conjunction with then Governor Cuomo and the Port Authority, it was the Spanos Family's generosity that changed the course of the Shrine's prospects. At a juncture when finances were critical, the Spanos Family came forward with an extraordinary pledge of $10,000,000 to this once-in-a-millennium undertaking. Their generosity not only enabled construction to recommence in August of 2020, but together with their fellow members on The Friends of Saint Nicholas, they spurred other gifts that secured the costs of construction and guaranteed completion of the Shrine. Their faith and steadfastness to this cause – to raise up a Shrine for our Nation and the world, has now come to fruition.
The children of Alex and Faye Spanos stood upon the shoulders of their parents to take the vision even farther, and thus they are truly Heroes of Saint Nicholas!
####
About the Heroes of Saint Nicholas
On the morning of September 11, 2001, Heroes emerged at Ground Zero – many of whom gave their lives. Since that fateful day, there have been contributions of enormous significance to the rebuilding of the Saint Nicholas Greek Orthodox Church and National Shrine. These are the Heroes Saint Nicholas.
Every month, we will highlight one of these persons who played a special role in making the National Shrine a reality. The gratitude of the Greek Orthodox Church toward these people is truly incalculable. We thank them from the bottom of our hearts for what they have done to bring about the miraculous reconstruction of Saint Nicholas.
Visit the Heroes of Saint Nicholas webpage for more information and a listing of past Recipients