Heroes of Saint Nicholas - November 2021 Recipient
Richard Browne, COO of Construction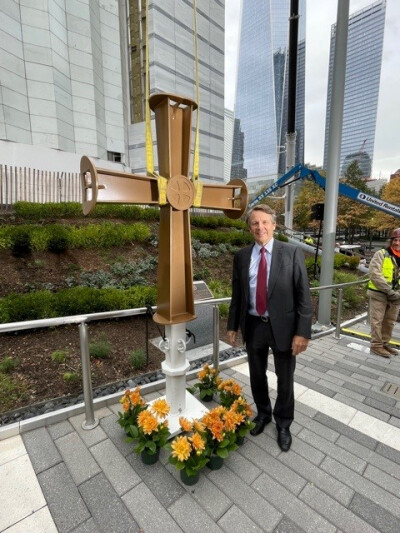 Richard Browne, whose name belies the fact of his Hellenic ancestry, is major force in the real estate and construction world of the New York Metro region. He is the Managing Partner of Sterling Project Development Group (SPD), a full-service real estate estate development management and advisory firm. SPD is an affiliate of Sterling Equities, a 50-year-old real estate owner/manager and developer based in New York. Its ownership group is a part owner the New York Mets Baseball Team as well as SportsNet New York, a regional sports network also based in New York. SPD is currently involved in approximately $26 billion worth of development projects across its portfolio. SPD assists approximately 100 clients throughout the United States as well as Europe and the Caribbean. 


Among its major New York Area projects, SPD is currently developing the $1 billion UBS Arena at Belmont Park, the new home of the New York Islanders NHL hockey franchise. In addition, from 2005 until its final completion in 2010, Richard served as Owner's Representative to Queens Ballpark Company, L.L.C., which spearheaded the development and construction of Citi Field, the home of the New York Mets.
Richard has personally supervised, coordinated or advised clients on more than $10 billion worth of development projects during his distinguished career.
From 1986 to 2001, Richard was the Managing General Partner of 40 Rector Street, a 600,000 square foot commercial office building located in Downtown Manhattan, just two blocks south of St. Nicholas. The building had been owned by his family since 1969 and was sold to an outside investor in 2001.
September 11, 2001 was as close a call for him as anyone could imagine, and the impact of 9/11 on him, as on so many others around the Nation and the world, was profound. In the rebuilt World Trade Center, the new headquarters of SPD gave him a bird's eye view of the emerging construction of the Saint Nicholas National Shrine. The challenges that the St. Nicholas project had encountered at the close of 2017 and continuing into 2018 inspired him to call on the Archdiocese "out of the blue," as they say. He offered – pro bono – his professional skills and services to help complete the project.
When asked by then Chancellor, Bishop Andonios of Phasiane, "Why do you want volunteer to help us after all we are going through?" Richard replied, "I have been extremely fortunate in my life and career to have had the opportunity to work on so many interesting and transformative projects. However, above them all, helping you finish this Church is what my parents and children would be most proud of me for...."
Serving as the COO of Construction (pro bono) and as a member of The Friends of St. Nicholas (FoSN), Richard Browne has brought a level of professionalism, competency, and devotion that brought the entire project back on track.
His offering in bringing the Saint Nicholas Greek Orthodox Church and National Shrine to a successful and responsible conclusion is inestimable. He is, truly, a Hero of Saint Nicholas.
####
About the Heroes of Saint Nicholas
On the morning of September 11, 2001, Heroes emerged at Ground Zero – many of whom gave their lives. Since that fateful day, there have been contributions of enormous significance to the rebuilding of the Saint Nicholas Greek Orthodox Church and National Shrine. These are the Heroes Saint Nicholas.
Every month, we will highlight one of these persons who played a special role in making the National Shrine a reality. The gratitude of the Greek Orthodox Church toward these people is truly incalculable. We thank them from the bottom of our hearts for what they have done to bring about the miraculous reconstruction of Saint Nicholas.
Visit the Heroes of Saint Nicholas webpage for more information and a listing of past Recipients