Heroes of Saint Nicholas - December 2021 Recipient
The Builders of our National Shrine
The rebuilding of Saint Nicholas has been, at this point, a decades long process. All through these years, there have been many unsung heroes who have labored on site – the construction workers whose dedication and devotion has been, to this point, unheralded.
From the very first days of the rebuilding efforts, we have seen time and time again the faith and the commitment of these noble men and women, who are shaping Saint Nicholas into the physical reality which will embody its spiritual essence. Just witness this steel beam that arrived at Ground Zero very early on: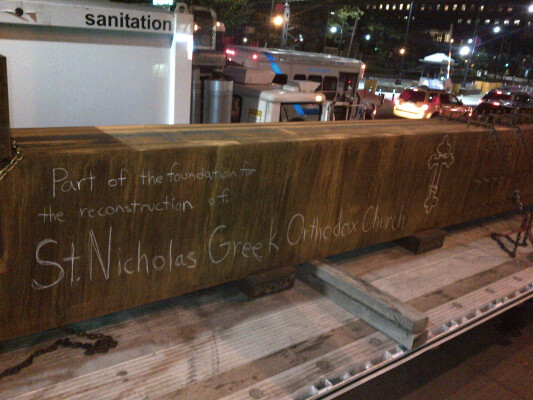 Somewhere, somehow, a pious worker responsible for the first foundation elements, let us know – and everyone working on the site, that there was something very special about Saint Nicholas. The Port Authority was deeply moved by the appearance of this beam.
From that day forward, those who have dedicated themselves to the rebuilding have labored as much as twenty-two hours a day to bring the Church to completion, even in this time of the pandemic. In fact, for the lighting of the Church on September 10th, when Saint Nicholas inaugurated – for the first time – the Anniversary Commemorations of 9/11 (and this was the Twentieth!), the teams worked literally around the clock to make sure the lighting ceremony could happen at nightfall that evening.
Below, you will see just a few pictures of various workers on the site, but remember, there are men and women around the globe – in Greece, Austria, and Minnesota – who are laboring every day to bring about the resurrection of our National Shrine.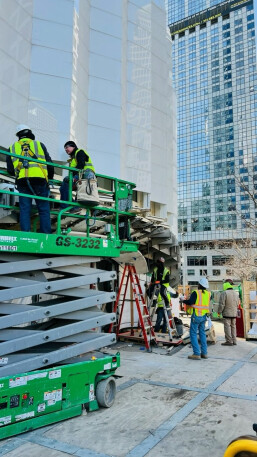 We also wanted you to hear them in their own words – why this Church is so important to them. Take a listen:
"I think it is a pretty big honor to be working on this project – it's a world class piece of architecture and a House of God. We're giving the people back what they lost; we're not going to be defeated. It's going to leave a legacy, something that's going to be here forever, millions of people are going to see this, and hopefully they will be proud of the job we did."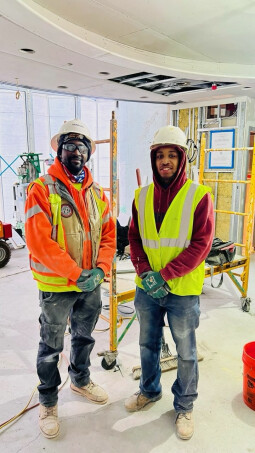 "I feel an immense amount of pride to be part of this project. I've shared the process of this project from when we started in 2017 until now with my entire family back home in Minnesota. To me, it's very important to rebuild this Church because this is where the Saint Nicholas Church once stood and it's the final piece to be rebuilt at Ground Zero after the attacks of 9/11. This has changed me in many different ways – I have met some of the most amazing people in my life and I am going to take that with me forever."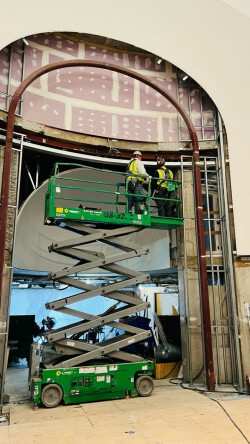 These good men and women are truly unsung Heroes of the Saint Nicholas Greek Orthodox Church and National Shrine, and today, we sing their praises.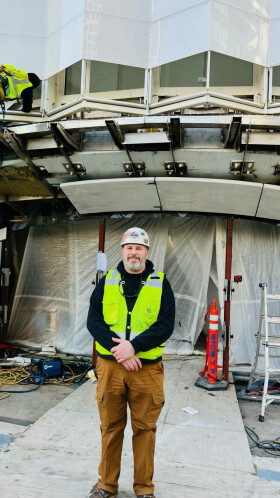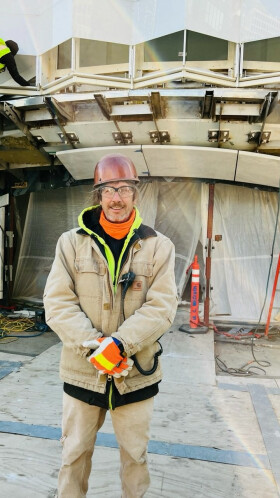 ####
About the Heroes of Saint Nicholas
On the morning of September 11, 2001, Heroes emerged at Ground Zero – many of whom gave their lives. Since that fateful day, there have been contributions of enormous significance to the rebuilding of the Saint Nicholas Greek Orthodox Church and National Shrine. These are the Heroes Saint Nicholas.
Every month, we will highlight one of these persons who played a special role in making the National Shrine a reality. The gratitude of the Greek Orthodox Church toward these people is truly incalculable. We thank them from the bottom of our hearts for what they have done to bring about the miraculous reconstruction of Saint Nicholas.
Visit the Heroes of Saint Nicholas webpage for more information and a listing of past Recipients