Heroes of Saint Nicholas
January 2022 Recipient
Louis Katsos
The rebuilding of Saint Nicholas has been assisted by many people through the years. In this final push to finish the Church, one of the unsung heroes is Louis (Lou) Katsos, a remarkable Hellene of the New York Omogeneia. He has contributed his extensive technical know-how, his time and energy – even traveling abroad to solve supply chain issues, and his commitment to the future of the National Shrine by agreeing to serve as Treasurer of the Parish Council.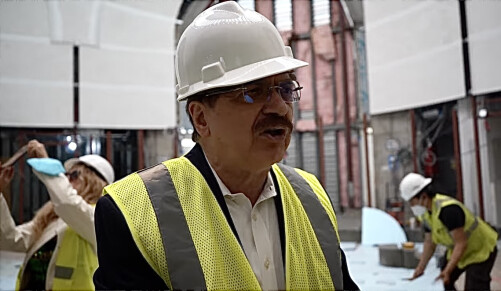 Lou was born in the Greek village of Georgitsi, a small mountain village located in the municipality of Sparta, on the side of Mount Taygetos. Due to its altitude, it allows you to see a large swath of the plain of Sparta; thus, Georgitsi has been dubbed "The Balcony of Taygetos."
He emigrated to New York City with his family in 1956 at the age of 5. He attended the Brooklyn technical high school and later received a Master's Degree from the Graduate Business School of New York University as well as a B.E.C.E. Degree (in Civil Engineering) from New York University. Lou has taught for almost 30 years as an Adjunct Assistant Professor both at New York University and at the Chanin School of Architecture at Cooper Union. During his studies he met his future wife, Barbara, and they were married in 1974 in Manhattan. Mrs. Katsos is a distinguished Doctor of Education; she has served as Principal at the Holy Trinity Cathedral School in Manhattan, and later studied law and is currently an accomplished practicing attorney in New York City. Lou and Barbara were blessed with two children, Ioannis Katsos, Professor of Law and Dr. Mara Karamitopoulos, pediatric orthopedic surgeon at NYU Langone. They are also grandparents of four beautiful children, Sofia, Irini, Melina, and Konstantinos.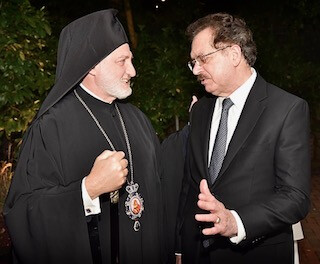 Lou holds the office of Archon Depoutatos of the Order of St. Andrew the Apostle, is an Ecumenical Patriarch Bartholomew Foundation Founder, AHEPA's National Hellenic Cultural Commission Chairman, and the 2020-2021 recipient of The Who is Who International World Eminent Man of Real Estate and Construction Management Market Award in Athens, Greece. He has 40+ years of major construction project experience in the New York Real Estate, Design and Construction Management market. A well-known leader in the construction industry in New York, he has for over 35 years held senior executive management positions with major national Construction firms, as well as President of his own firm since 1992 Jekmar Associates, Inc., a construction and development consulting firm providing services to New York's top developers and real estate owners.
As a strategic supporter of the Sail to Freedom event celebrating the 200-year anniversary of the Hellenic Revolution (1821-2021) Lou was recognized as "The Face of the Hellenic Diaspora for the 200 years of Freedom." He is also the President and Founder of the Eastern Mediterranean Business and Cultural Alliance (EMBCA), Executive Board Member of The Greater Harlem Chamber of Commerce, and President of the American Hellenic Institute (the New York Chapter).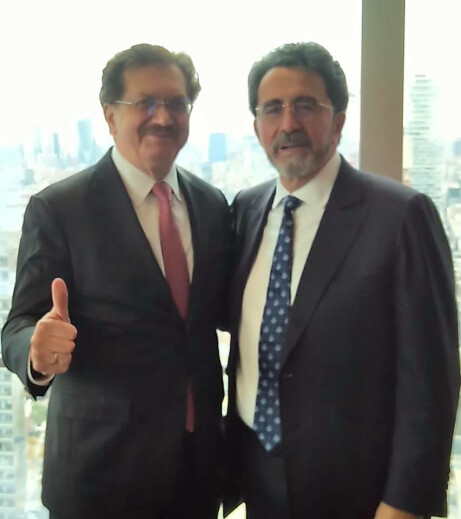 When he was honored by the Manhattan Chapter of the Order of AHEPA, Delphi 25, last October, Archbishop Elpidophoros said this at the occasion.
"I have come to know Lou and his devotion to our Faith and Tradition by his involvement in bringing the Saint Nicholas National Shrine at the World Trade Center to fruition. Lou, you have contributed your invaluable expertise to a project that would not be the same without you. You ask for no credit, no reward, except knowing that this Shrine will serve not only New York City, but our Nation and the world."
Lou is truly a Hero of the Saint Nicholas Greek Orthodox Church and National Shrine, and today, we express our deep thanks to him for all his labors its behalf.
This following video link features Lou at the Shrine, describing elements of its features and construction complexities that make it unique: https://www.youtube.com/watch?v=kg4dgOGhJxI
####
About the Heroes of Saint Nicholas
On the morning of September 11, 2001, Heroes emerged at Ground Zero – many of whom gave their lives. Since that fateful day, there have been contributions of enormous significance to the rebuilding of the Saint Nicholas Greek Orthodox Church and National Shrine. These are the Heroes Saint Nicholas.
Every month, we will highlight one of these persons who played a special role in making the National Shrine a reality. The gratitude of the Greek Orthodox Church toward these people is truly incalculable. We thank them from the bottom of our hearts for what they have done to bring about the miraculous reconstruction of Saint Nicholas.
Visit the Heroes of Saint Nicholas webpage for more information and a listing of past Recipients