Hero of Saint Nicholas - May 2021 Recipient
Anthoula Katsimatides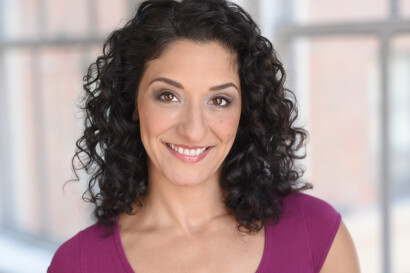 Anthoula Katsimatides is a remarkable human being. And that's just the start. Her life, and the life of her family was forever changed on September 11, 2001, when her brother, John Katsimatides, was one of the lives lost on that fateful and tragic day.
Anthoula, who is a successful actress and on both stage and screen, was working for then Governor Pataki on the day of 9/11, as an assistant for community affairs to the Governor. During this time, she worked as a liaison to various ethnic communities in New York City. When the catastrophe of 9/11 happened, Anthoula, whose own family was deeply bereaved and in tremendous pain, proved to be an extraordinary ally to the little Saint Nicholas Church on Cedar Street and the Greek community that had been there. And this was just the beginning.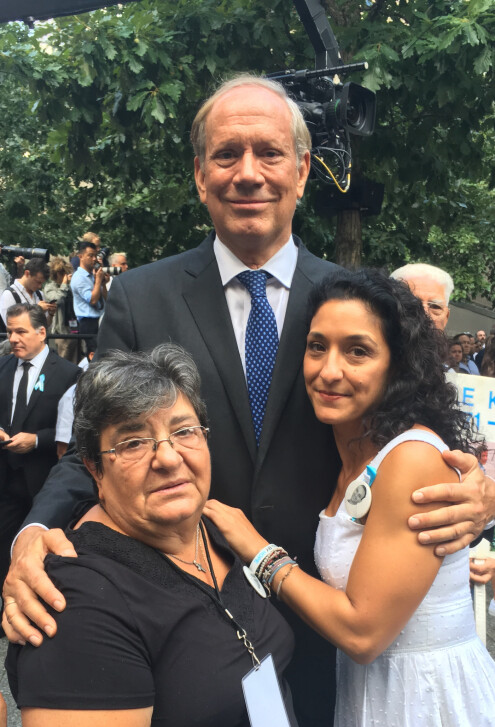 Anthoula with her mother, Calliope, and Governor Pataki at the 15th Anniversary of 9/11
She was appointed to be the assistant Vice President for family relations at the Lower Manhattan Development Corporation (LMDC), and she became the liaison to the family members of those who were murdered in the terrorist attacks on September 11, 2001, as well as the prior attack, February 26, 1993. She also served as Governor Pataki's liaison to the 9/11 families.
Anthoula has been a constant and vocal advocate for the rebuilding of Saint Nicholas since Day One. As part of her commitment to the memory of all those who perished on 9/11, she serves on the Board of Directors of the National September 11 Memorial & Museum at the World Trade Center Foundation. She has been deeply involved in many of the decisions about how remembrance at the site should and must be made.
On the tenth anniversary anniversary of 9/11, she offered this reflection on the loss of her brother, indeed speaking for the pain of many others:
We're suffering. It's really difficult; sad. We just try to get through day-by-day. Being that we lost him in such a tragic way, on a grand scale, makes everything bigger. It's a very public loss; it's always in your face. People always want to know how you feel, your opinion. 9/11 for me is about my brother and the other victims. It's not about politics. I volunteer my time on the Board [of the Memorial and Museum] because I wanted to stay in touch with what was being built in memory of those precious lives lost. I wanted it to be as glorious and hopeful as it could be and it's just that.
When the Church held the Ground Blessing to commence construction on October 18, 2014, Anthoula presided as the MC for the day, because everyone there, the thousands who came that day, knew what she stood for and how she had served.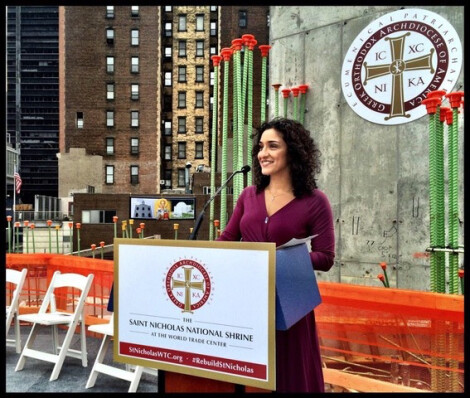 Anthoula emceeing the Ground Blessing on October 18, 2014
She was also featured on the September 6, 2020 edition of 60 Minutes: click here to view
She said: "I know that once St. Nicholas opens, my mom and I will visit and say a prayer for John there, a place of love and hope for all family members and for all people from around the world who are going to come and visit and pay their respects to everyone that died that day."
For twenty years, since the tragic beginning, Anthoula Katsimatides has been a powerful, constant advocate, not only for the Saint Nicholas Shrine, but for all those who lost a loved one and whose live were forever changed on 9/11.
She is truly a hero of Saint Nicholas!
####
About the Heroes of Saint Nicholas
On the morning of September 11, 2001, Heroes emerged at Ground Zero – many of whom gave their lives. Since that fateful day, there have been contributions of enormous significance to the rebuilding of the Saint Nicholas Greek Orthodox Church and National Shrine. These are the Heroes Saint Nicholas.
Every month, we will highlight one of these persons who played a special role in making the National Shrine a reality. The gratitude of the Greek Orthodox Church toward these people is truly incalculable. We thank them from the bottom of our hearts for what they have done to bring about the miraculous reconstruction of Saint Nicholas.
Visit the Heroes of Saint Nicholas webpage for more information and a listing of past Recipients