Hero of Saint Nicholas - March 2021 Recipient
His Eminence Archbishop Demetrios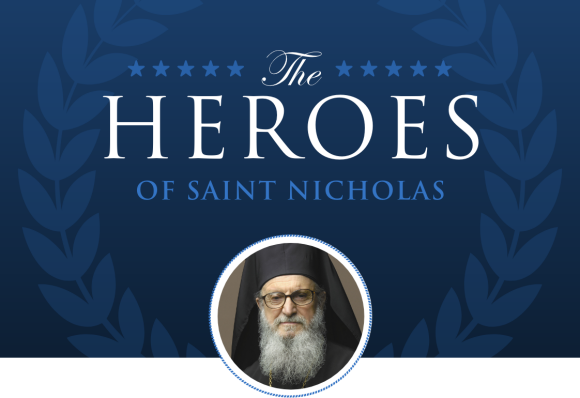 On the morning of September 11, 2001, the former Archbishop, His Eminence Demetrios, was preparing to return to New York from Boston, where he had attended an academic event. As the ensuing days unfolded, he found himself at Ground Zero, together with many clergy, and in the midst of the aftermath of the worst attack on American soil in history.
In a reminiscence to The National Herald some years later about his first visit to Ground Zero, he recalled: "I remember it being a sunny day, but there was a blur in the air, a peculiar burning smell, and even a burning taste in our mouth of the mixture of dust, cement, and perhaps remnants of the three thousand bodies – all having been pulverized."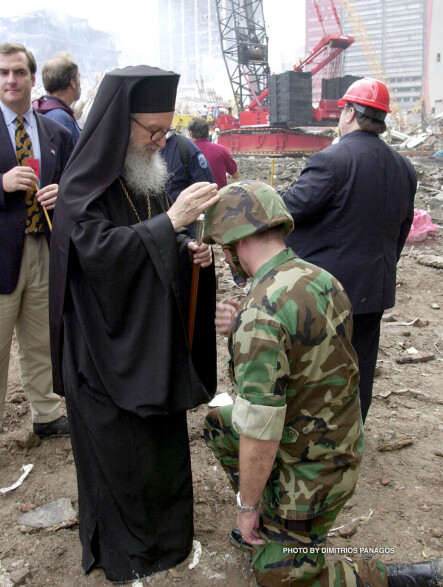 The Archbishop continued: "We began a Trisagion, at which point a group of soldiers arrived. One approached me and asked if we would join them for one, big prayer, and we did. We hoped that we would be able to save some of the men and women who had been inside the Twin Towers – what we did not know at the time is that they were all dead."
As the Nation rallied in the face of this catastrophe, Archbishop Demetrios was a calming presence at Ground Zero. He was with President Bush, Governor Pataki, the city officials, and those tasked with rescue and retrieval.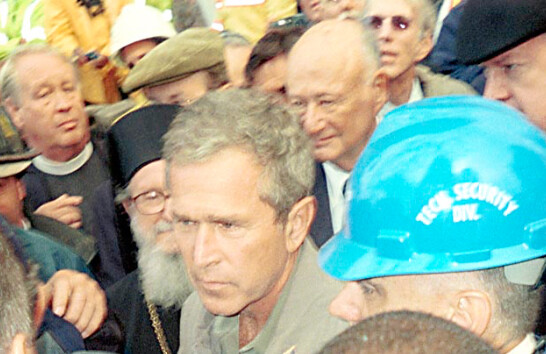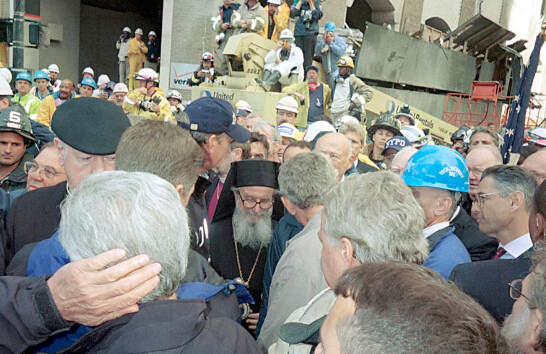 Throughout the painful weeks and months that followed, the Archbishop met with families, conducted funerals for the Orthodox victims, and prayed with little flock of the St. Nicholas Church on 155 Cedar Street that was completely destroyed.
He remarked on one of his many visits to Ground Zero: "As I watch this explosion of hatred, I see the rescue efforts and the support, and so I also see an explosion of life, and this is our hope."
As he led the many commemorations of the community at the site of the former church structure, he also accompanied His All Holiness Ecumenical Patriarch Bartholomew in 2002, who conducted a Trisagion for all who perished that fateful day (pictured below, with the late Fr. John Romas, the pastor of the St. Nicholas Parish, and Emmanuel Velivasakis).
Archbishop Demetrios' pastoral guidance in the aftermath of September Eleventh will never be forgotten; he is one of the Heroes of Saint Nicholas.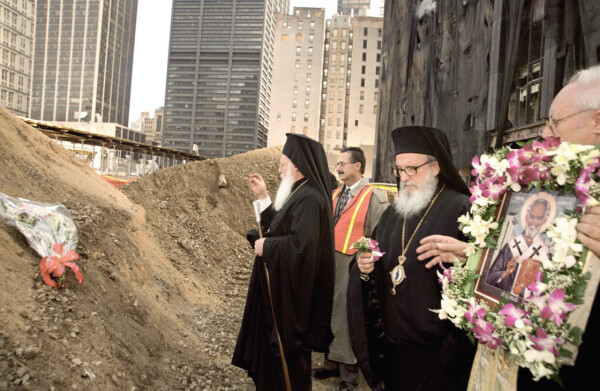 About the Heroes of Saint Nicholas
On the morning of September 11, 2001, Heroes emerged at Ground Zero – many of whom gave their lives. Since that fateful day, there have been contributions of enormous significance to the rebuilding of the Saint Nicholas Greek Orthodox Church and National Shrine. These are the Heroes Saint Nicholas.
Every month, we will highlight one of these persons who played a special role in making the National Shrine a reality. The gratitude of the Greek Orthodox Church toward these people is truly incalculable. We thank them from the bottom of our hearts for what they have done to bring about the miraculous reconstruction of Saint Nicholas.
Visit the Heroes of Saint Nicholas webpage for more information and a listing of past Recipients